A fast paced lunch time workshop run by Jude Ellen, designed to foster ideas with creative fearless entrepreneurial thinking, finding the edge for successful action
Global forces propelled by technology  are shifting our  world, colliding with our local realities, creating dynamic risks and opportunities for  us as a community. And we are urged to innovate – or die.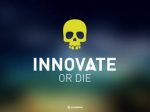 This is an opportunity in October Business Month to step back a little, reflecting on  why we "innovate".  What happens if we change our lens from innovation as the bottom line rationale  to flourishing ?
Let's look at the "I" word  and ask ourselves how we flourish  and work with the winds of change, especially when so much of our world is structured and organised.
How you see the major forces shaping our world  to which we must pay attention?
What you'd like to do to flourish
How we can help you and each other 
This workshop is led by Jude Ellen, offering insights from her 4 years as Lead Activist in Rust 490 www.rust490.com   an emerging  Darwin creative space where people technology and ideas collide for impact in business. Jude is one of 10 people identified as a Regional Activator by Australia Post Regional Pitchfest  across the 2017  entrepreneurial networks in our regions.
Wednesday 11 October 20017 1130 – 1230: Darwin Innovation Hub. Light Lunch will be supplied. Free event, sponsored by the Department of Trade Business and Innovation. Limited numbers. REGISTER